Chromecast for the office
A howto for Setting up a customizable video display for patient education in the waiting room of an office using a TV, Google Chromecast, a laptop or smartphone, youtube, and the office wifi
Chromecast for the office
Wouldn't it be nice for your patients, your office staff, and you, if the time spent in the waiting room could be more productive? Perhaps answering some basic questions about the office, or encouraging people to update their contact information. Even education about exercise and being sun smart? Well here is how you can use: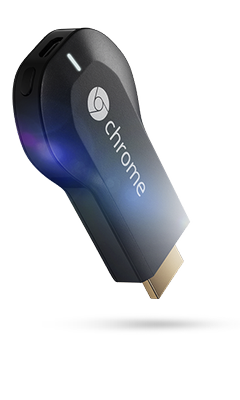 and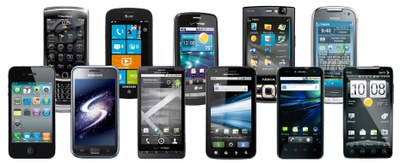 or

with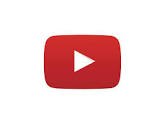 and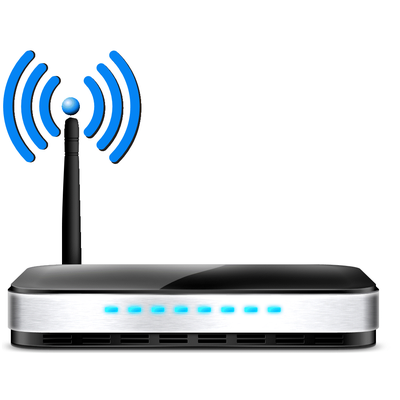 to improve the waiting room time
You will need:

A 40" TV with at least 1 HDMI port and 1 USB port*

A TV Wall Bracket

Chrome browser on a laptop - then add the Google Cast extension follow the instructions here. Or
Chromecast on a smart-phone - iPhone or Android phone
Software is free
Access to YouTube
Wi-Fi in the Office
*It is nice to have the USB port on the TV but not necessary - the Chromecast Dongle does need to be powered via a USB adapter, but it also comes with a wall plug so you can power it from your regular wall socket.
Extras for longer videos:
To create a 12 hour video so that you do not have to reload the presentation frequently you will need:
Software to create video file such as mp4 - VLC - Free, Nero Product or Roxio product - prices starting at $30 - staples
To upload videos longer than 15 minutes - you must verify your YouTube account which includes a text message to your phone from the US - cost obviously depends on your plan.
If you do not have a Google/Gmail account, or wish to create an office account:
Search for Google in your web browser
Open the Google page and click on sign in - usually the top right corner. Then go to the bottom where it says create an account and click there

Follow the steps to create an account
You can also click
here
to start creating an account
Once you have an account:
1. Sign in to Google+ or Gmail and look for the icon at the top right that has 3 lines of 3 squares like the side of a Rubik's cube and click on this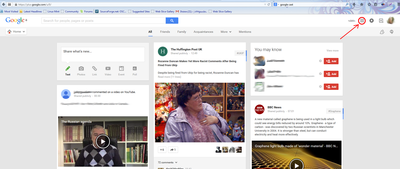 2. Select YouTube - it should open up in a new tab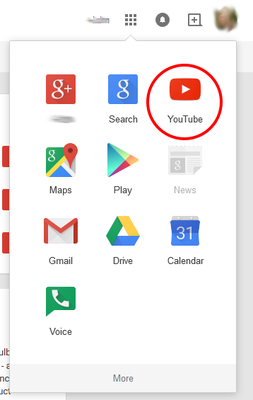 3. In the column on the left about 1/2 way down click on play-lists - this will move you to a new page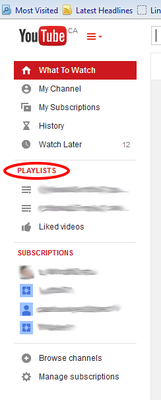 Added - May 22 - 2015 - If you cannot see playlist - try the following: Click on My Channel - it should get you to a similar page where you can click on Playlists (see below) - or - If you STILL can't see Playlists - look for the Video Manager Icon (near the top in the middle of the My Channel page), click on that Icon, then in the column on the left click on playlists. In the new page in the top right hand area there should be a "+" sign and new playlist - click on this and you should get to step 5
4. Click on new play-list

5. Give your play-list a title - if you wish others to be able to use it, make it public, otherwise you can make it unlisted (available, but does not show up in searches) or private. Click create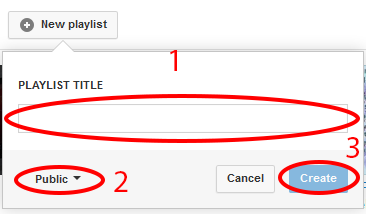 6. On the right hand side click on add videos - a search box will come up and you can search for any videos you wish to add. If you wish to use the links mentioned below click on the URL tab and you can go directly to them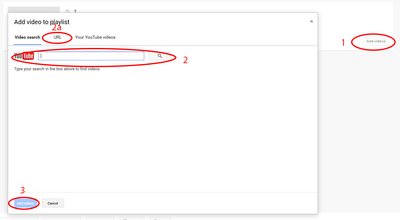 7. Click add videos

8. Repeat for all the videos you wish to put in your play list - the longer the play list the less of an issue it will be to restart the play-list when it ends.
Creating your own YouTube videos:
You can upload videos you have made or create videos in YouTube from images











1. In YouTube on the top right click on upload
2. In the new screen the centre panel is where you search for videos you have already created or drag and drop videos for upload
3. On the right hand side you can click on "create" below photo slide-show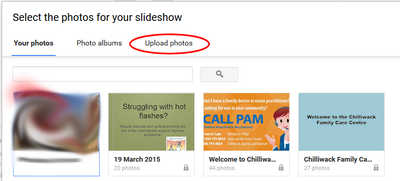 4. You can use existing photos in your Google+ account or you can create a new folder and upload pictures to that folder
5. Once you have selected all the pictures you wish to use, you can re-arrange the order, then go to the bottom left of the page and click next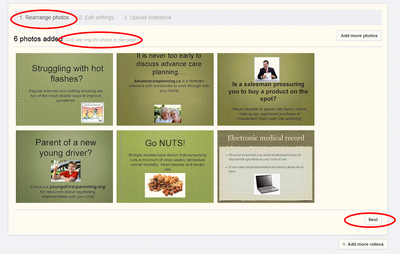 6. I suggest you set the slide duration for the longest available - 10 seconds
7. I chose not to have any slide effects, and cross fade is fine for the transition
8. I chose not to have music
9. Click upload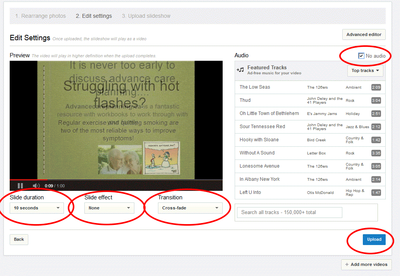 10. Once your video has been processed you can click publish to make the video live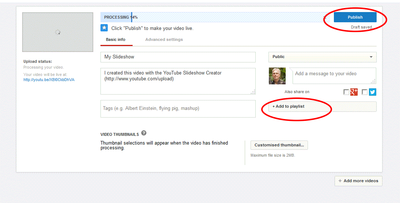 11. you can then add it to your play-list (click add to play-list on right hand side)
12. once you have added it to your play-list it will appear on the right hand side next time you open up YouTube.
How do I get pictures that I can put in to my YouTube video?
As I tend to use presentation software like PowerPoint or LibreOffice impress, I find it easiest to make slides in that program and then export them (save them) as images
Once you have made your slides:

In PowerPoint:
1. Go to file -> Save as -> and choose other file format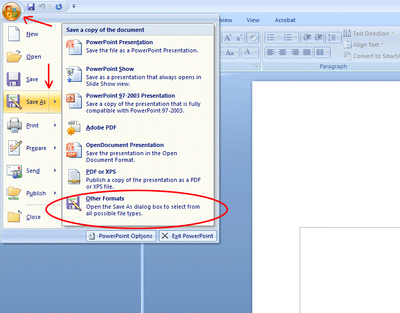 2. Choose jpeg files and remember where you are saving them to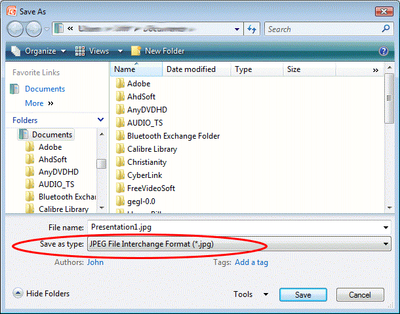 3. Choose to save every slide

4. The folder you have saved to should have each slide as a separate jpeg that you can upload to YouTube to create your slide show video (see above)
In LibreOffice Impress:
There is an extension called Export As Images 0.9.2 - it was created in 2012 and was tested with LibreOffice 3.4, and LibreOffice 3.5,it is found here. It adds a menu entry "Export as images..." to File menu and allows you to choose a file name for exported images, image size as well as some other parameters.

The process is then similar to that for PowerPoint.

Once you have your YouTube videos/play-lists in place it is time to mount the TV and set up Chromecast. With respect to setting up Chromecast,I recommend following the steps at the Google help page here.

Once your Chromecast is set up you can start to broadcast using your smart phone or laptop.
On your laptop you will need to be running the Chrome browser and have installed the Google Cast add on. Once you have installed this there will be a Chromecast icon at the top right corner of the browser.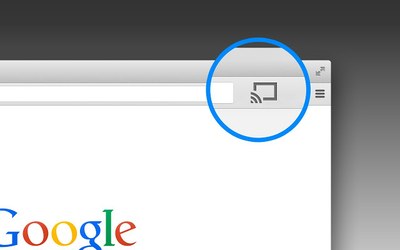 6. You need to click on this and connect to your Chromecast dongle. Once you are connected there should be a Chromecast icon on the bottom right of the video window when you open YouTube. You can click this to stream to your tv from your laptop.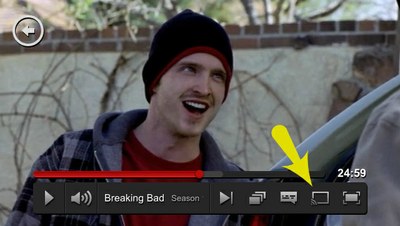 7. With your smart-phone you need to install the Chromecast app (see above). In the app you can connect to the Chromecast dongle. Once you have done this, open up YouTube on your smart-phone, select the play-list you want and click on the cast icon at the top right of the video.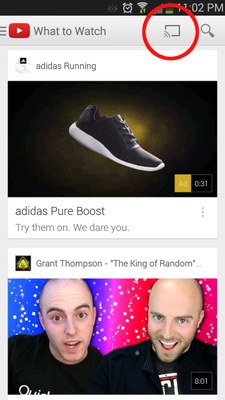 This came about as a project to improve patient education by using a TV display in the waiting room. By using a Chromecast dongle you can broadcast your own media on to a TV. Several examples of YouTube videos are available and these can be broadcast. - here are some examples:
Created by Dr John Roberson, 29 Mar 2015